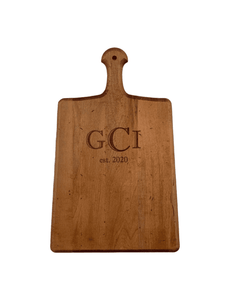 Artisan Paddle Serving Board
Regular price
$85.00
$0.00
Unit price
per
Our Maple Paddle Serving Board is distressed for a wonderful patina of years of use without the wear and tear. This board is large enough to serve 3 to 5 of your favorite cheeses and crackers. The handle allows ease of use to carry the board for serving or hanging when not in use.
Dorset, Vermont, USA
Maple with an Artisan teak oil finish
Care instructions
Handwash with warm, soapy water after each use and dry thoroughly with a towel.
Never soak or submerge in water, run in a dishwasher, or use in a microwave.
Placing hot pots or pans on your board can result in a lasting burn mark.
Apply Mineral Oil and / or Beeswax Wood Conditioner once a week, with a lint free cloth, to all surfaces--including edges and ends--until the finish is established, and at any time the board feels dry.
---